Weather Report
> Initiate communication
Each participant will articulate the mood they perceive in the team at the start of the meeting so the host can best adapt the activities to follow. They do so by choosing from 7 different forecasts, from clear skies to stormy weather!
Pre-requisites
Prepare a Survey activity that asks the question: 'What's your take on the team's mood?' 
Participants can only choose one answer from: 'Clear skies', 'Somewhat overcast', 'Sun and clouds', 'Overcast', 'Gloomy', 'Dark and rainy' or 'Stormy'.
This is a quick activity, and usually there won't be a need to time it.
Activity settings Survey
Activity format: Single choice
Possible answers: 7 forecasts
Results: at the end of the activity, Doughnut or Pie chart format
Process
Presentation
Start the activity and clarify the question for the group if needed. Ask participants how they feel about the climate in the team, and have them choose one of the 7 available forecasts.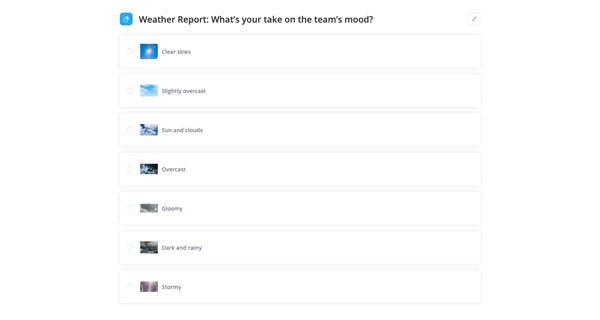 Collection
Each participant completes the survey and, from among the 7 different forecasts, chooses the one best suited to the climate they perceive within the team.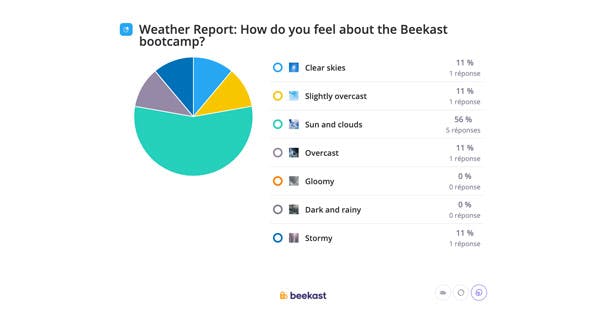 Summary
Finish up by indicating how you'll heed the barometer for the following discussion.
If the barometer tends toward gloomy, rainy or outright stormy weather, consult the group on the best way to continue the meeting. It might be best to postpone it or take the time to address the causes of this poor weather. A Brainstorming activity or a DAKI could pinpoint the causes and allow the team to move forward.