4Ls
> Summarize
Each participant speaks to the previous period about the positives (what they learned and liked) and negatives (what they missed and what they'd have liked) in order to establish an improvement action plan for next time.
Pre-requisites
Prepare a Board activity in Beekast with the 4 following categories: Liked, Learned, Lacked, Longed For.

Configure your Board activity based on your situation. 'Round by round' is ideal to avoid participants influencing one another.
An icebreaker activity should precede this one in order to prepare the group.
Activity settings Board
Activity format: 'Direct' or 'Round by round'
Vote: by points (3 to 5 depending on the number of participants)
Time management: optional (timer, stopwatch, none)
Categories: 4 activity categories
Process
Presentation
Remind participants about which time period or project the activity is focused on:
last month, project phase, step, etc.
Explain each category:
Liked: what I enjoyed during this period, what went better than expected. Insist on positive things
Learned: what I learned
Lacked: what was missing, what could I have done better
Longed for: what I want in the future, the elements, processes or people that weren't available during this period and that I'll need next time
Take the time to make sure everyone understands the importance of each L.
Exploration
Each participant works quietly on their own during the time allocated for exploration, taking note of their ideas on their Beekast notepad.
Discussion
One by one, the participants send their notepad ideas to the Board, taking a few seconds to explain each idea.
You can create groups as you go along to put similar or identical ideas together. You can also use colour markers.

Selection
Your idea gathering session is done once everyone has had a chance to speak. If there are a lot of ideas to discuss, we recommend casting votes using points:
You can switch directly to the voting session in your Beekast Board. Remind participants that they only have a few points, so they need to prioritise what really matters to them.

Summary
Once the vote is over or you've made your manual selections, identify the ideas with the most votes (usually the first 3 or 4) in order to set up an action plan to have them implemented.
You can enter the actions directly in the discussion space so that they'll show up in your meeting notes.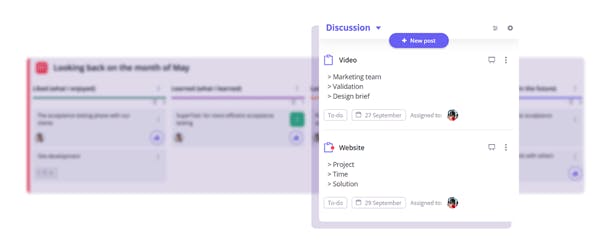 Suggestions and variations
After the vote, if the ideas selected are still too vague, you'll have to follow up with a decision-making activity to refine the action plan.
The 4Ls activity allows you to adopt a continuous improvement initiative in the team. You can change things up with other similar activities: