5 Whys
> Resolve issue
The 5 Whys is a problem-solving activity that generally makes it possible to get to the source of a problem by repeatedly asking yourself 'Why?' Participants can think about the root causes together instead of accepting the symptoms.
Pre-requisites
Prepare a Board activity in Beekast with a 'Problem' category and 5 'Why' categories. The Board is set up in direct mode, and you can add a voting session and time management to it.

This activity could be held after a brainstorming session. In this case, you can add the prioritised ideas from your brainstorming to the 'Problem' category in the 5 Whys activity.
You must focus on just one problem at a time.
Activity settings Board
Activity format: Direct
Voting session: optional
Time management: optional
Categories: 5 'Why' categories
Process
Presentation
Present the activity to the group and describe the problem.
Clearly ask them 'What's happening?' Write the issue in the 'Problem' category, along with the participants' explanations.
Make sure the group is in agreement with how the problem is worded and that everyone understands before moving on.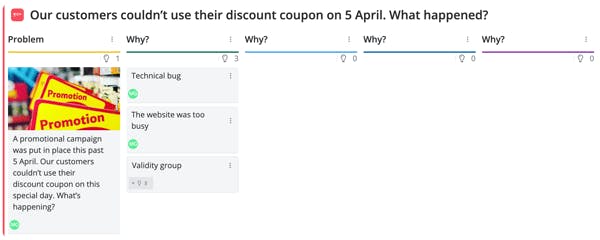 Exploration
Step one: ask the group 'why did this problem occur' and take note of the answers in the first 'Why' category.
Assemble similar answers together in a group and identify it as a symptomatic cause of the problem.
This cause becomes the new Problem that needs to be solved. If you have multiple causes, concentrate on the one the group believes is most important.
Rephrase the new cause as a problem, starting the statement with 'Why...'.
Go back cause by cause to the root of the problem observed.
Generally, this root cause will emerge before the 5th Why.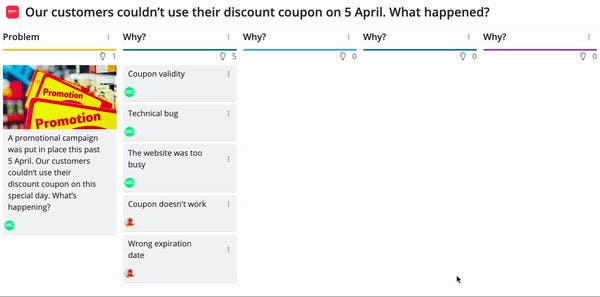 Summary
Once the group has identified the root cause, you can put your heads together and figure out corrective measures to prevent a recurrence.
You should have at least as many corrective measures as Problem (symptomatic cause) + Solution (Why) pairs. These assembled actions are the solution to the initial problem. Identify a leader for each action. Note the components of the action plan as actions or decisions in order to have them appear in your meeting notes and ensure follow-up.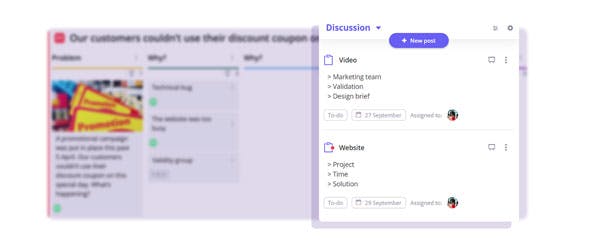 Suggestions and variations
The 5 Whys is a Lean principle: you need to choose a path and create the corrective measures required to solve the problem. So it's normal to have to choose a single path from among all the possible options and stick with it to the end.
After identifying the primary cause of the problem and the corrective actions, you must send the meeting notes to all the teams and divide up the responsibilities among all those concerned in order to solve it.