GROW Method
> Resolve issue
Participants, either individually or as a group, will aim to solve a problem following the GROW method's 4 steps. Step 1, Grow, is for clarifying the purpose of the workshop, letting participants take ownership of it and paraphrase it. Step 2, Reality, is a chance to review the whole context that needs to be considered before figuring out a solution. Step 3, Options, is when possible solutions are brought up. Lastly, step 4, What, is used to arrange the necessary actions for implementation.
Pre-requisites
Prepare a Board activity in direct mode, and activate it. Next, create 4 categories, which will be renamed based on the G.R.O.W. method:
Goal, Reality, Options and What
Activity settings Board
Activity format: Direct
Vote: by Likes or Points
Categories : Goal, Reality, Options, What
Process
Presentation
Explain the goal of the problem-solving session to the group as well as the method's principle. Go over the meaning of each of the 4 steps:
Goal: What does the purpose of the session mean to you? What's another way to phrase the problem?
Reality: What's the actual context of the problem that needs to be solved? What situational elements need to be brought to mind before working on solving the problem? 
Options: What are some possible solutions to the problem?
What: What actions need to be taken to implement the chosen option? 
Express the issue that has brought the group together, and make sure everyone understands it.
Exploration & Discussion
The workshop takes place in steps. Starting with step 1, "Goal", ask participants to come up with ideas to clarify the common goal for the group. After they've shared their ideas, the group can discuss and possibly fine-tune the session's goal.
The facilitator then suggests participants come up with some ideas for the second column, "Reality". Participants can add all situational elements they think are important for handling the problem more effectively afterwards. 
Now it's time for the third column: "Options". At this point in the workshop, participants offer their ideas on how to solve the problem. Once all the solutions have been collected, the facilitator initiates a vote, specifying that participants should only be choosing items from this column. You can hide the other 3 categories to help make that clear.
Once a solution has been chosen, participants move on to the fourth and final column: "What". They indicate the key actions that need to be done to successfully implement the chosen solution.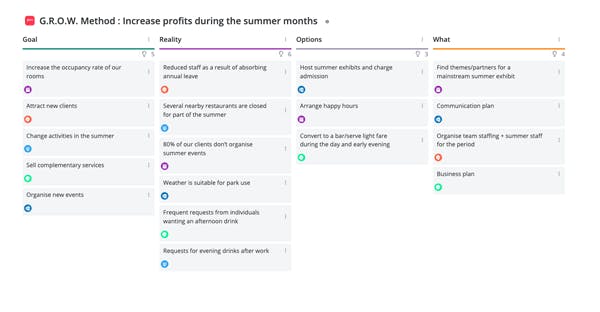 Summary
When the activity is finished, identify a leader for each action. Note the components of the action plan as actions or decisions in order to have them appear in your meeting notes and ensure follow-up.