Introductions
> Initiate communication
This activity replaces the traditional introductions with something more fun. Participants take turns introducing themselves using the ID card they'll have created beforehand in the Board.
Pre-requisites
Prepare a Board activity. Provide one category per participant, and use each person's first + last names as the category titles. Put your column at the start of the Board. Prepare your own card to start the activity with a real-world example. In your column, post the following ideas: your role in organisation and your expectations for this meeting, along with a picture that best depicts this.
Activity settings Board
Activity format: Round by round
One category per participant (first name + last name)
Process
Presentation
As the organiser of the meeting, quickly explain the Introductions activity by introducing yourself with your profile card.
Give the group 2 to 3 minutes to prepare their cards (role, expectations with an image) and then give the floor to the first participant (first column after yours).
Collection
Each participant sends their card (2 idea cards) when it's their turn to speak and briefly presents themselves in 30 seconds with the card as a reference.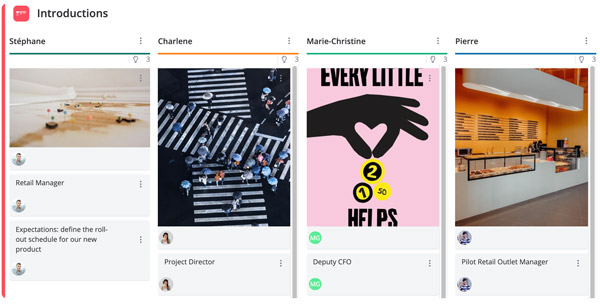 Summary
The participants get to know each other better and, above all, will get a better understanding of everyone's expectations in this meeting. Finish the activity so that it appears in the meeting notes.
Suggestions and variations
You can add other ideas to the presentation card: relationships. Each participant can indicate their relationship to the others at the meeting.