Say it with flowers
> End communication
Participants send a flower to someone in the group to thank them for doing something that helped move things forward during this period.
Pre-requisites
Prepare a Board activity in round-by-round mode and without categories.
Activity settings Board
Activity format: Round by round
Categories: none
Process
Presentation
Remind the group that they will be sending flowers to someone who helped them make progress with a concrete action, a positive attitude or a remarkable contribution.
Ask each member of the group to prepare a Flower card in their Notepad for someone else. Explain the instructions:
participants choose a flower from the photo gallery (or the internet, but that can take longer)
then they write the name of the person to whom they wish to send the flower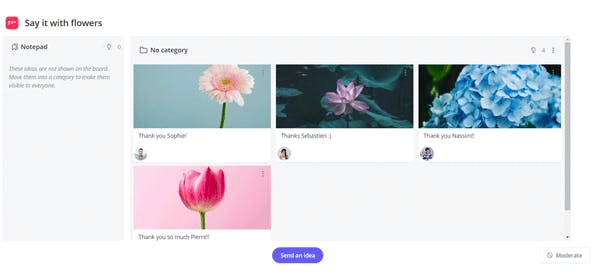 Collection
Each participant takes turns to send their card using the Board and thank someone for their help, actions, attitude, etc.
Summary
End your meeting on this positive note
Suggestions and variations
You can also carry out this activity with the Selfie Wall for a more graphic effect.