Timeline
> Explore and brainstorm together
The Timeline activity allows the group to reflect together on events that took place over a given period, to look at how they perceive these events and to put these observations to good use, drawing improvement actions from them for the future.
Pre-requisites
Prepare a Board activity. For groups of more than 10 people, plan to divide them into groups of 5 to 10 max. and assign a Board to each sub-group.
The first category to prepare is entitled 'Legend', and it will be used to identify the colour codes according to the events put forward: emotions (negative, positive, neutral), technical, organisational or human events, etc.
Next, add a category to represent each time phase: per week (if spanning less than 3 months) or by month, for example.
It's important to do an icebreaker activity before starting the Timeline activity to gauge the general mood of your participants.
Activity settings Board
Activity format: Round by round
Vote: in points
Time management: timer or stopwatch
Categories: Legend + Time Phases
Process
Presentation
Explain how the activity will take place and the time allotted for each phase. This activity will consist of two main parts: building the timeline and using this timeline. Each one will take about 30 minutes.
Exploration
Ask each person to write down what they believe were important events for the project: one idea card per event and keep them in the personal notepad for the time being.
Try to stimulate them by asking each person for 10 events.
They can apply the colour code you provided to their card,
such as how they feel about the events: green (positive), blue (neutral), orange (negative)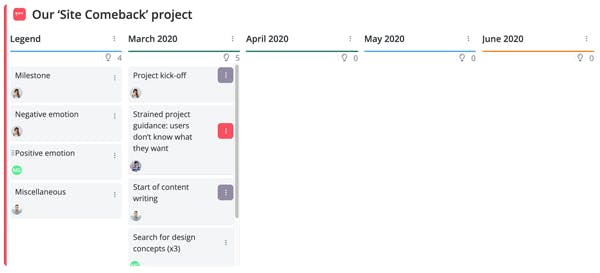 Collection
Ask each participant to take turns sending their cards to the Board and to concisely present each card (to make sure everyone understands it, the participant can rephrase it if needed)
Once everyone has had their turn, ask them if any other events have come to mind based on what was already mentioned. Complete the Timeline.
ask them if there are any duplicate events. If so, make a group or just keep one idea but add a counter (i.e. the 'Presentation of the sales objectives by the Marketing Director' was mentioned 3 times, so add a '3' or *** to the idea's text)
ask them if the events are correctly positioned on the timeline and adjust them if not
ask the group again to check that no events were left out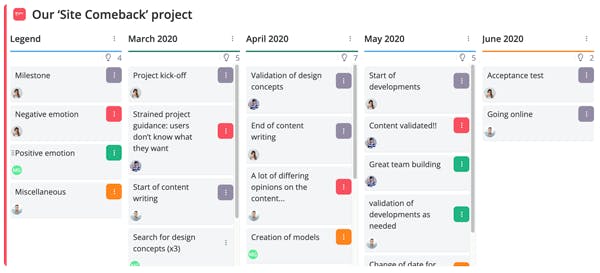 Discussion
Give the group a few minutes to absorb the entire Timeline, then hold a discussion revolving around these questions:
What events made an impression on you?
What surprises you on the Timeline?
What did the construction of this Timeline reveal to you?
What events would you like to discuss with the group?
Selection
After this discussion, ask participants to select what they think could be improved. Do this by starting a voting session on the Board.
After this session, you can create an action plan, either with a new category in the Board, if you need to develop ideas, or using the Actions and Decisions in the Discussion space.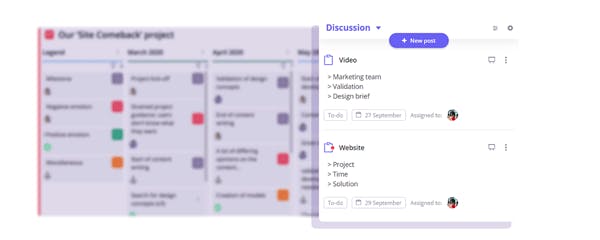 Summary
You can close the Timeline activity with a round table discussion, with each person having the opportunity to answer these two questions:
Did the activity meet your expectations?
What improvement or idea will you take away and apply in the future?
Afterwards, you'll send out the meeting notes to everyone.
Suggestions and variations
For effective brainstorming, you need an appropriate group size: not too big, not too small. Ideally, you'd have 4 to 6 people, or a maximum of 10. You can create sub-groups and assign each of them to a Board. A representative can present the summary to the others.