Innovation Matrix
> Explore and brainstorm together
The Innovation matrix is a fairly new corporate marketing strategy tool. It helps a company dig up marketing innovation ideas. These innovations might be related to products or generally focus on the business model. This tool encourages you to think about new ways of promoting your expertise to your customers. For example, you could switch from the traditional retail sale of a product to a financed leasing offer of the same product—surely a more attractive option. It's also a way to look for new technical skills that will let you stand out on the markets.
How can you innovate whilst sticking to your current business model or coming up with a new one? 
How can you innovate whilst continuing with current technical skills or learning new ones?  
Each participant will speak about these different possibilities with a view to generating a list of innovations for the company.
Pre-requisites
This activity should be tackled with a team that has a clear view of marketing as well as the technical aspects of what the company offers. You can mix sales and marketing people with technical staff from engineering, R&D or even production.
Prepare a Board activity in round by round mode with 4 innovation categories:
Incremental, Radical, Disruptive, Architectural
You can set up time management, to be adjusted according to the number of participants (30 to 60 minutes).
Activity settings Board
Activity format: Round by round
Vote: in Points
Time management: Timer (30-60 min)
Categories: Incremental, Radical, Disruptive, Architectural
Process
Presentation
Specify the purpose of the meeting: today you'll work with the group to define the company's innovations. Introduce the activity and the meaning of each of the four categories:
Incremental innovation (existing business model; mastery of technical skills): participants give their ideas about how to innovate whilst keeping to both the current business model and technical skills already possessed. Let's look at our car manufacturer again: incremental innovation would generally mean releasing a new vehicle model (without any particular technical innovation).
Radical innovation (current business model; new technical skills): Why not look for new technical skills?! These will surely make radical innovation possible whilst sticking to your current business model. This is where our car manufacturer can draw on its expertise in power electronics and the design of high-performance batteries to tackle the innovation that electric vehicles represent.
Disruptive development (new business model; mastery of technical skills): Are you facing stiff competition and struggling to stand out from the crowd? Maybe it's time to change up your business model, without necessarily resorting to new technical skills. Our car manufacturer could introduce disruptive innovation by leasing its car fleets rather than selling them.
Architectural innovation (new business model; new technical skills): This is the highest level of innovation, combining new technical skills with a new business model. Our car manufacturer might start manufacturing new self-driving cars (new skill = artificial intelligence) that it will offer in the form of a fleet of taxis operating on a pay-per-use cost structure (new business model).
Give an example from another industry so that all participants have a good understanding of the model's 4 aspects. 

Exploration
Each participant works quietly on their own during the time allocated for exploration, taking note of their innovations on their Beekast notepad.
It's important for the exploration phase to be done in silence to avoid any influence from the group.
Discussion
One by one, the participants send their notepad ideas to the Board, taking a few seconds to explain each idea.
Make sure that each innovation idea finds its way to the right box: are ideas in the disruptive box really new business models? If the idea is placed in the Disruptive or Architectural boxes, make sure to ask what new technical skill is needed.You can create groups as you go along to put similar or identical ideas together. You can also use colour markers.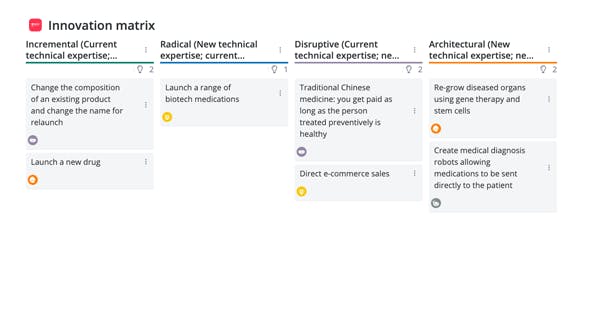 Selection
Your idea gathering session is finished once everyone has had a chance to speak.
If there are a lot of ideas to discuss, we recommend casting votes using points:
You can switch directly to the voting session in your Beekast Board. Remind participants that they only have a few points, to make sure they prioritise what really matters to them.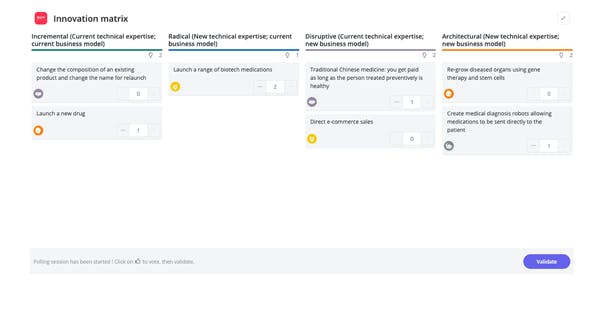 Summary
After your voting session or when manual selection is done, identify the most popular ideas (generally the first 3 or 4) to set up an action plan for their implementation.
You can create actions from the ideas on the Board or directly in the discussion area to include them in your meeting notes.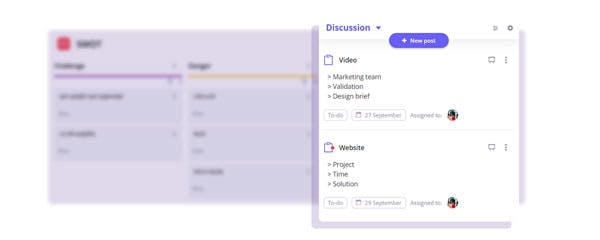 Suggestions and variations