3 Horizons
> Explore and brainstorm together
The 3 horizons, as defined by Geoffrey Moore, correspond to the 3 strategic issues that the entire company must now face.
Indeed, companies are locked in a daily market struggle to keep degrowth at bay. 
They also need to look a few years ahead and find ways of accessing new markets. To do so, they must invest by harnessing their strengths to generate tomorrow's revenues.
Finally, they have to face the risk of disruption to their own products and services in the long term. They have to reinvent themselves and imagine a different future.
These are the 3 horizons the participants will discuss, whilst together seeking strategic solutions.
Pre-requisites
This activity should be tackled with a team that has a clear view of both strategy and marketing, as well as the technical aspects of what the company offers. The technical profiles from R&D and/or production are critical for this, so that future technical solutions can be realistically and ambitiously imagined, particularly for horizon 3. Consider supplementing this technical view with experts from outside the company in order to broaden horizons as much as possible!
Prepare a Board activity in round by round mode with 3 innovation categories:
Horizon 1: Defence, Horizon 2: Extension, Horizon 3: Radical innovation
You can set up time management, to be adjusted according to the number of participants (30 to 60 minutes).
Activity settings Board
Activity format: Round by round
Vote: in Points
Time management: Timer (30-60 min)
Categories: 3 activity categories
Process
Presentation
Specify the purpose of the meeting: today you will work with the group to define the company's strategic development axes. Introduce the activity and explain the meaning of the 3 categories:
Horizon 1: Defend current business
This means doing your best to defend the company's markets. To do this, companies need to continually renew part of their business through incremental innovation. These investments will be limited to the available cash flows. For example, a restaurant could invest in new equipment, diversifying its offer by purchasing a pizza oven. Horizon 1 is generally 1 year.
Horizon 2: Extend the current business to new emerging markets
For horizon 2, it's essential to find new emerging markets for which current products or services could be appropriate, with some adaptations. These strategic axes generate future cash flow, enabling a medium-term ROI. Our restaurant could choose to supplement its business by breaking into the home delivery market. To do so, it will have to find partners and adjust the way it operates. Horizon 2 is generally 2 or 3 years out
Horizon 3: Radical innovation for future business
Horizon 3 is for disruption. It represents the moment when the sector's traditional product offer is shaken by a new value proposition. The cash flow and growth potentials are very high but uncertain, making calculating ROI at this stage precarious. Our restaurant business could eventually be partially replaced by high-performance humanoid kitchen robots equipped with artificial intelligence and able to replicate the recipes of the best chefs in a perfectly autonomous way. Horizon 3 is generally 5 to 10 years out.
The value of defining these 3 horizons in a forward-looking manner lies mainly in the preparation. Now is the time to prepare for horizons 2 and even 3 by forging partnerships and trying things out, so you're ready when the time comes.
Give examples from other industries so that all participants have a good understanding of the model's 3 horizons. 
Exploration
Each participant works quietly on their own during the time allocated for exploration, taking note of their ideas on their Beekast notepad. It's important to be done in silence to avoid any influence from the group.
Discussion
One by one, the participants send their notepad ideas to the Board, taking a few seconds to explain each idea.
Make sure every idea is assigned to the right box. Horizon 3, in particular, is reserved for breakthrough innovations, not just adaptations to what already exists. You can create groups as you go along to put similar or identical ideas together. You can also use colour markers.

Selection
Your idea gathering session is finished once everyone has had a chance to speak. If there are a lot of ideas to discuss, we recommend casting votes using points and asking participants to assign points to at least one idea per horizon:
You can switch directly to the voting session in your Beekast Board. Remind participants that they only have a few points, to make sure they prioritise what really matters to them.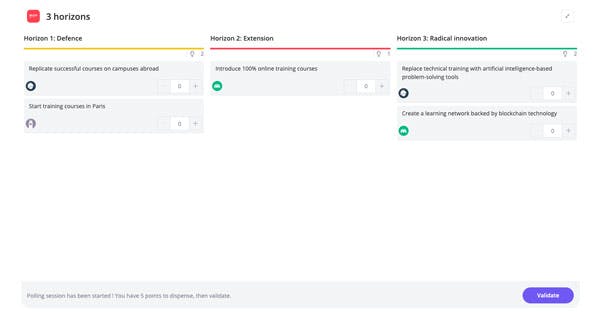 Summary
After your voting session or when manual selection is done, identify the most popular ideas (1 to 3 maximum per horizon) to set up an action plan for their implementation.
You can create actions from the ideas on the Board or directly in the discussion area to include them in your meeting notes.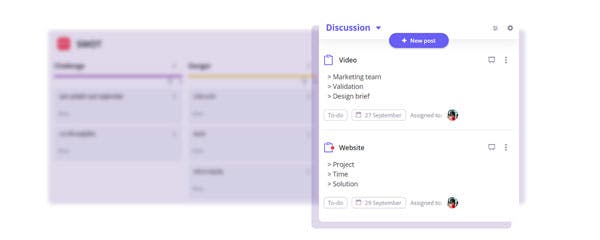 Suggestions and variations